Updates getaggt mit renee pornero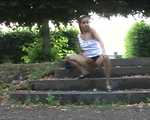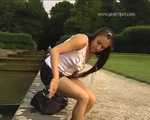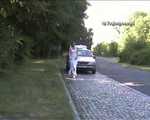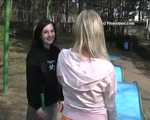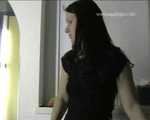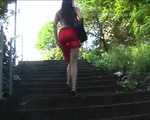 We are delighted to offer the 4th Volume in our popular Pee Medley series. Volume 4 features Petra, Sam, Renee, Yvette, Juliette and Vicky. Running time is approx 90 minutes and includes 36 pee scenes, including three scenes from Yvette, which have not been previously released.
Chapter 1) In Vicky's only appearance for Projectpee, we see her waiting for a friend by the entrance to a business park. Desperate to pee, she hurries inside the park and pees a flood on the pavement. Next, we present Petra's debut scene and see her returning from watching the televised World Cup final with some friends in a bar. The celebration drinks are pressing on Petra's bladder and we see her take a quick detour to relieve her desperation. We join Yvette & Juliette on a rather windy day and see first Yvette pee in view of the workers at a sand pit. We find Sam & Renee arriving in a car park under the shopping mall. Sam is desperate to pee and rushes out to pee on the pavement. She is in view of passing traffic, including a truck driver who sounds his horn and she just manages to finish before more people arrive in the car park. We return to the sand pit and see Juliette take a turn to pee by the flagpole. Renee heads down to pee near to the rail track but has to wait until a curious passerby moves on and then she is caught squatting by the crew of passing trains.
Chapter 2) Two scenes from Petra's visit to the grounds of a magnificent palace. I the first scene, a very desperate Petra takes a long pee on a flight of steps. In the second scene, Petra walks into one of the ornamental water features and adds her pee to the pond water. Staying with the water theme, we see Sam & Renee walking down to a lake. Sam takes off her shoes and walks into the water before pulling up her skirt and taking a huge pee into the lake. Next, we have three scenes from Yvette. In the first scene, we see Yvette walking in the Bavarian forest and stopping to pee against a tree and then we see Yvette peeing whilst sitting on a picnic table. Finally, we see Yvette pause halfway across a motorway bridge and take a huge pee on the footpath.
Chapter 3) Sam & Renee are playing 'crazy golf'. Renee is quite good but Sam is hopeless at the game, soon becomes bored and amuses herself by peeing in front of one of the tunnels that Renee's ball must pass through. Next, as both she and Renee need to pee, Sam challenges Renee to a peeing contest and they sit and pee on the golf 'course'. Sam wins the peeing contest but Renee wins the golf. Sam is in a furniture store looking for a new sofa. She needs to pee but cannot be bothered going to the Ladies and heads into a Gents toilet. She does not like the look of the dirty toilet and just pees in the hand basin. Yvette & Juliette are travelling and share a hotel room. Yvette returns to the room, desperate to pee but finds Juliette already using the toilet. Too desperate to wait, Yvette climbs up and pees into the sink. Later the roles are reversed when Juliette returns to the room to find Yvette using the toilet. Juliette decides to use the shower instead. Sam has to pee before leaving the furniture store and this time manages to find the Ladies toilet, where she takes a very badly needed pee.
Chapter 4) We join Petra as she walks home across town and see her make a quick diversion into a park to take a long and very much-needed pee on to a flight of steps. Petra carries her journey but before too long she badly needs to pee again and seeing some portable toilets in a play area heads in their direction. However, they are fenced off and so Petra makes do with peeing in a corner by an outdoor table tennis table. With only a short way to go, Petra had to stop again and this time headed into a school, which was in course of a renovation. She went into the toilet block but all the fittings had been removed and so she peed on the floor. As she left, she noticed a sign indicating that this was the boys' toilet. Next, we see Sam emerging from an underpass, desperate to pee. Possibly encouraged by the graffiti mentioning piss, Sam squatted down and took a very forceful pee. Finally, we see Sam & Renee walking in a park, which is next to a busy road. Renee is desperate to pee and ignoring the passing traffic takes what cover she can from the trunk of a tree whilst she stands and pees a flood on to the ground below. She must have flooded an ant colony as swarms of ants emerged from a hole and swam for their lives through the pee puddle.
Chapter 5) This chapter features a selection of six scenes from Yvette. The first two were filmed in response to customers' requests. In the first scene, a nude Yvette climbs on the bonnet of her car and pees over the car. Yvette is nude in the second scene, where she pees on a pile of timber at the roadside. The third scene has never been released in the and features Yvette seated at picnic table peeing whilst she drinks a bottle of orange juice. The next scene shows Yvette arriving at a public toilet, which is closed and peeing on the pavement outside the door. The final two scenes have not been released and the first shows Yvette seated on the rail of a bridge and peeing as traffic passes on the main road whilst the final scene shows Yvette, wearing only a coat, boots and a hat, peeing from the side door of her MPV as traffic passes.
Chapter 6) The first scene shows Renee getting out of her car in the supermarket car park and taking a long pee from a standing position by the car door. Next, we see Sam & Renee visiting a railway museum. The girls split up to look at various exhibits and Renee pees on the track in front of a locomotive. Sam wanders into one of the carriages and sits down before peeing on the opposite seat and floor of the carriage. Before leaving Sam climbs up into the cab of one of the old steam locos and takes a huge arcing pee from the footplate. The last two scenes of the movie feature Petra, who has been window- shopping in a shopping precinct. She pees openly outside a shop and then carries on looking in the windows. Before leaving the precinct, she takes a very long and very public pee on the pavement.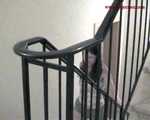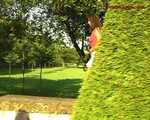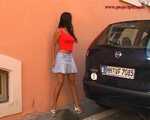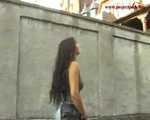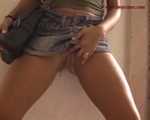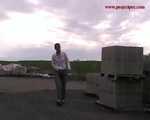 The final selection of scenes in this series from popular models Samantha, Renee, Yvette, Salma, Juliette and appearances from real-life sisters Helen & Kelly. Filming took place in Germany, England, Austria and Mallorca.
Chapter 1) we rejoin Helen & Kelly on Hampstead Heath and see Kelly take a very forceful pee on to the dry leaves. Helen needs to go as well and squats down and soaks the leaves. Next, we find a really desperate Yvette pausing to take a very forceful pee in the middle of a country lane. Out on a chilly day, Renee is desperate and walks a little way from the main road to pee on a track, in view of traffic passing on the main road. We then rejoin Salma at the palace and see her take cover inside one of the buildings and have a very long pee.
Chapter 2) we catch up with sisters Helen & Kelly for the last time and see first Kelly and then Helen take their final pees on Hampstead Heath. Yvette is also out for a summer walk in the woodland and has to stop to take a gusher by the side of the path. Next, we find Yvette at home but she has locked herself out of her flat and has to pee in a dish in the basement storage area. The final scene of this chapter follows pretty Juliette as she returns to the car park and takes a sneaky pee beside her car.
Chapter 3) we rejoin Salma and see her finish her visit to the palace and head back out into the town. She is desperate to pee and slips up a side street to take a very risky pee beside a parked car. Another day Salma continues her exploration of the ancient town and has to take an emergency pee on the steps of another historic building. Salma relaxes with a couple of glasses of been in the town square and then sits by the fountain to enjoy the sun. The combination of the beer and sound of the running water makes Salma desperate to pee and she heads off in search of a toilet. She has no success and ends up peeing in the corridor of a block of flats.
Chapter 4) Yvette & Juliette are out for a country walk and both badly need to pee. We see them squat side by side and perform a charming pee duet. Out for a walk, Yvette has to stop and take cover by some outbuildings when she needs to pee and later heads into a builders yard and pees by the stacked material. Juliette might be little but she is athletic and manages to clamber over a barrier and down an embankment to take a pee by the side of the motorway. Later we see Juliette take a gushing pee near her car.
Chapter 5) Features Renee and we see her take a pee on some industrial plant and later pee on the impressive steps leading into a park. Renee just misses her bus and desperate, takes a very daring pee standing in the bus shelter as traffic roars past. Walking home through the park with her shopping Renee needs to pee and simply stops and pees on the pathway. Renee walks through the park on a grey winter day and stops on a small bridge by the frozen lake. She sits on the bridge with her feet on the ice and takes a long pee on to the ice. Finally, we see Renee return to her parked car but too much in need to pee to drive home. She sits on the edge of the sill and pees a flood on to the car park.
Chapter 6) we rejoin Salma in the sunshine and desperate to pee again. She floods the cobbles of an ancient side street. Later she is desperate again and can't find a quiet corner in the street and so ends up peeing outside someone's front door. Finally, we see Salma using a stream which runs right through the town centre as an impromptu toilet and sending a big arcing stream of pee into the water. Yvette returns for her final scenes of the movie and we see her pee firstly in a farmyard and finally in a country lane.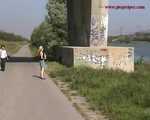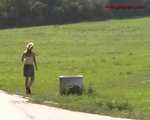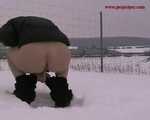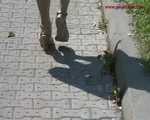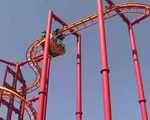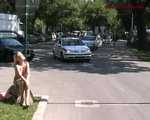 A compilation of scenes from popular models Samantha, Renee, Yvette, Salma, Juliette and appearances from real-life sisters Helen & Kelly. Filming took place in Germany, England, Austria and Mallorca.
The movie contains twenty-seven pee scenes and runs for approx. 90 minute
Chapter 1) introduces all the girls and we first see Yvette stop her car on a country road and pee in the roadway. Next, we join Helen & Kelly on a visit to Hampstead Heath and see first Kelly and then Helen pee in the woodlands. Next, we join the stunning Spanish model Salma on a visit to a German palace. She can't find a toilet and pees in the gardens. Next Juliette arrives too early at the supermarket and pees by the side of the building whilst she waits for it to open. We join Sam on a stroll along the banks of the Danube and see her pee in the grass. Finally, we join Renee who is holidaying in Mallorca. She returns to her villa but hasn't taken her key and so has to pees on the doorstep.
Chapter 2) rejoins Yvette in the laundry room of her apartment block. She needs to pee but is in too much of a hurry to go back upstairs and so pees neatly into the floor drain. Sam is out by the Danube again and pauses to take a huge gushing pee in the middle of a small bridge. Still out and about in the country, Sam next takes a huge pee in the middle of the footpath. Finally, we see Renee heading to visit a neighbouring villa. There's no one at home and so Renee takes a huge pee outside the gates.
Chapter 3) finds Yvette waiting for the train at a tiny country station. She badly needs to pee and so squats over the snowy ground outside the shelter. Still in the snow, we see Yvette stop and pee on a roadside path whilst out for a walk. Next, we see Yvette arrive at the supermarket desperate to pee and so she pees in the snow-covered car park. Yvette braves the snow again for her final scene of this chapter and pees on the stairway of a park.
Chapter 4) we join Sam on a visit to the famous Vienna Prater and see her dodge the crowds to take a pee from a seated position on a low wall. Later, she sits on a boulder by the taxi rank and pees as a police car drives past. Next, we see Sam pause on the banks of the Danube and take a long arcing pee into the river. Finally, we see Sam take a daring pee by the side of her car at a waterside picnic area whilst people sit around in the area enjoying the sun.
Chapter 5) we rejoin Yvette on another snowy day and see her stop and burn a pee hole in the snow. Finally, out of the snow, we see Yvette desperate to pee in the basement of her building and using a small bucket as an emergency toilet. Yvette seems to love the snow so much that we find her strolling naked in the whirling snowflakes and pausing to melt some snow with her hot pee. In complete contrast we see Renee in the Mallorcan sunshine, squatting down by some rocks to take a discrete pee on the beach. There's nothing discrete about Renee's next pee as she stands naked on top of a rocky outcrop and sends a spectacular arc of pee out on to the sand below.
Chapter 6) we find Sam out walking along a country road and see her pause to take one of her trademark huge pees in the middle of the road. Later, she stops again to empty her bladder on to the roadway and leaves another huge wet patch. Finally, we see Sam out walking in the rain under the shelter of her umbrella and stopping to pee in a country lane.