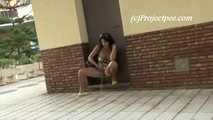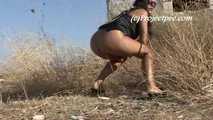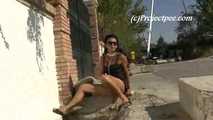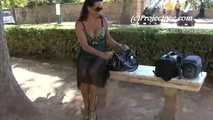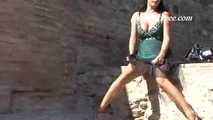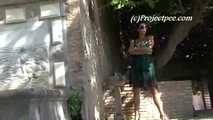 We are proud to present Eve's Andalucian Travels. Filmed entirely on location in Andalucia, the movie opens with a selection of scenes filmed on the beach and in the small coastal towns near Malaga. We then have two scenes filmed on the 170km drive inland to Granada and the fabulous former Moorish stronghold and palace, the Alhambra. As with many of our previous landmark locations, we can say with some certainty that this is the first ever pee movie filmed within the precincts of the world-famous Alhambra Palace. Following the scenes from the palace is a nice scene filmed by the beautiful water feature of the municipal building, an exciting roadside stop on the return journey and a pre-dinner pee stop on the beachfront, on returning to the coast.
The next round of filming is in the famous Costa del Sol town of Marbella and features some stylish and daring scenes on the promenade, adjacent streets and harbour area. Moving back along the coast, we filmed at another impressive Moorish stronghold Castillo Sohail near Fuengirola before moving to a small coastal town for an extremely daring and desperate street scene.(there really was no toilet available) The last chapter of the movie features a daring scene on the main street of Fuengirola and finally a late evening pee on the beach
96 minutes running time which includes 23 pee scenes.