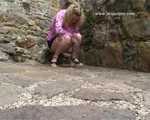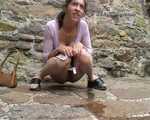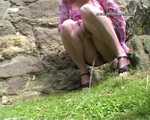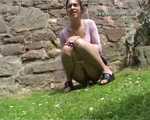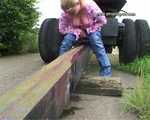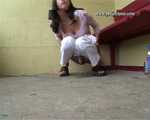 Starring one of our early amateurs Carla, a lovely 19 yr old brunette, aided and abetted by her friend Kim and joined for a brief visit by Shelley. Filmed in a variety of picturesque and historical locations and consisting of 18 scenes, which include 30 gushing pees. You will be amazed by the volume of pee that such a petite girl as Carla can produce.
The opening scene finds Carla and Kim walking along a coastal path towards the local station. Kim has not had a chance to visit the toilet this morning and so she goes down onto the sand and relieves herself of about 12 hours worth of pent up pee.
We find the girls putting off time at a preserved mine working before catching their train and this time it is Carla that is desperate. Too shy to ask any of the staff if there is a toilet available she prefers to go behind a building and takes a huge pee on a concrete step.
We join the girls taking a walk down a country lane. Carla needs to pee and encouraged by Kim slips into a small park and pees on the grass while Kim keeps waits. Kim decides that she needs a pee as well and they change places, allowing Kim to take a big gusher on the path.
The girls visit a well-known castle. They climb to the top of the tower to admire the spectacular views over the surrounding countryside. They both need to pee and provide a couple of spectacular views of their own as they pee profusely at the top of the tower.
After their tour of the castle, the girls relax with a picnic and a bottle of wine at the base of the ancient walls. The only thing that is spoiling their relaxation is their desperate need to pee but they soon remedy that by peeing daringly under the very noses of the myriad of visitors.
This scene finds Kim walking home along a busy country road. She needs to pee and conceals herself behind a farm tanker in a lay-by.
Carla is very naughty and daring in this scene. Waiting for the train at the local station she is bursting for a pee and, with passengers on the platform, slips into the waiting room and does a huge pee on the floor.
The girls are waiting for their bus in a very public area and both are desperate to pee. They have to scramble out of sight behind some concrete bollards and squeeze themselves into a small corner where they squat side by side. Kim sprays pee out so hard that she splashes Carla's feet.
Kim is heading to meet Carla and runs into Shelley whom she knows from school days. Shelley confesses to being desperate to pee but Kim has difficulty in persuading her to use the great outdoors. Finally, she reluctantly squats in the corner of an old railway wagon and leaves a messy puddle on the floor. Carla appears and all three girls go for a walk. Kim needs a pee and simply has a squat on an old brick staircase. Soon Carla is desperate as well and retreats into an old kiln where she gushes unbelievably on to the ancient dust floor.
Carla has borrowed her uncle's rather smart BMW. She heads off to meet a couple of friends and of course show off the car. She needs a pee however and rather than spoil her grand arrival by having to rush off to the nearest toilet she slips into a quiet road end and has a pee behind the car door.
Later in the day Carla is out again in the BMW and so desperate for the toilet that she is nearly peeing her pants. She swings into the car park of a disused café and relieves herself in the corner and not a moment too soon judging by the torrent of pee.
Innocent as she might look, Carla can be a naughty girl at times and in this scene she hurries Kim out of the phone box in a lovely conservation village, not to use the phone but to do a huge pee in the box.
The girls arrive at the castle and spend a relaxing time walking around and sipping wine in the garden. The toilets are far away at the main entrance and Carla really needs to pee. The number of visitors makes it impossible to find a quiet corner and finally, she takes a real chance and pees in one of the old bedchambers. Kim is placed at the door to keep it shut and fortunately, she is both a substantially built and quick thinking girl as some tourists try to come into the room. She makes an excuse about filming and the tourists apologise and move on. This was not staged and gave us all a very nasty moment. We left an empty water bottle on the floor to try to disguise the origin of the huge puddle left there.
Returning from their visit to the castle, all the liquid that they consumed as caught up with them again and they stop for a pee. The girls walk a good way up the path and take cover in the bushes.
Kim is waiting for Carla to pick her up in the car. Carla arrives but before she can continue has to dive into the car park for a pee. They drive off but Kim now regrets not having relieved herself at the same time and so Carla pulls into a lay-by and lets Kim have a pee by the wall.
Carla has arrived a little early to meet her friends and have a stroll in the country park. The park does not open for another 10 minutes or so and the toilets are inside. Carla can't wait that long and finds a secluded corner to pee in. She does an incredibly forceful stream on to the ground, proving just how desperate she was.
Another castle visit for the girls and this time to a rather remote stronghold perched on a hillside. They have to leave the car at the foot of the hill and make their way up on foot. Kim needs a pee but they are in the open country and despite its remote location there are a lot of visitors in the area, Finally, they arrive at the ruin, which as no toilet facilities, and Kim has to perch on a broken ledge to keep out of sight while she pees. Once inside, Carla takes the opportunity to pee on the floor of a roofless chamber before more visitors arrive. Once outside Kim takes what cover she can by the back of the mighty walls and pees on an old step. The girls then make their way back to the car and Carla decides that she needs to relieve herself before driving away. She squats by the car door and starts to pee but suddenly two people appear. Carla stuffs her panties up under her short skirt and sits on the car seat trying to appear casual. How much they actually viewed we don't know.
The girls are taking a Sunday afternoon stroll through the woods and Kim needs a pee. Kim assumes a high squat and does a gusher into a big puddle on the path. A little further on Carla takes advantage of the cover of an uprooted tree to squat prettily and pee in the shade.