PJP-04 Projectpee Compilation Movie Volume 1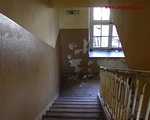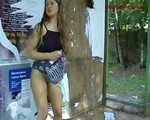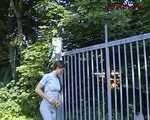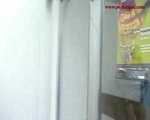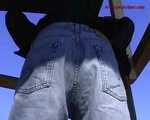 Please Note That Is Not A Compilation Of Parts From Other Movies. None Of The Scenes Appear In Any Other Full Movie.
This is the first of two compilation movies featuring the solo pissing adventures of our lovely young girls Katharina, Gina & Isabelle with additional scenes from Mona and Joanne.
The movie contains no less than 21 gushing pee scenes with the added bonus of 2 scenes from Isabelle where the volume of pee was a bit below par.
Divided into four sequences, Sequence 1 introduces all the girls and includes 6 pee scenes. We find Mona peeing in a Business park, Joanne peeing by warehouse doors, Isabelle taking a pee in a suburban car park, Katharina peeing on the steps of a block of flats, Gina peeing in a factory car park and finally Katharina peeing inside an empty flat.
Sequence 2 finds Isabelle peeing inside a shelter, Katharina peeing in a bus shelter, Isabelle peeing on a park bench, Katharina peeing by some gates and Gina peeing by an underground station entrance.
Sequence 3 finds Joanne peeing in a shopping centre, Isabelle climbing to the top of a hunting tower and peeing on the platform, Katharina peeing by a transformer, Katharina peeing on the path of an empty house and Isabelle peeing by some parked trailers.
Sequence 4 finds Isabelle peeing in a parking garage, Isabelle peeing in an office plaza, Katharina leaving the gym and pausing to pee in the street by a parked lorry, Katharina peeing in a business park and Katharina peeing in a car sales lot as she looks for some new transport. Also included are two scenes from Isabelle where she does a small pee in a plaza and a Business Park.
You can also enjoy the trailer for PJP-03 Carla & Friends Need To Go and the trailer for Projectpee Compilation Movie Volume 2, in full DVD quality.