PJP-19 Katharina - Karneval & Beyond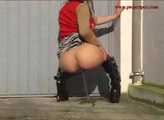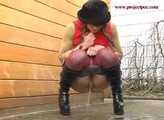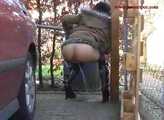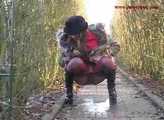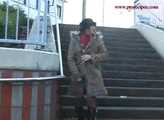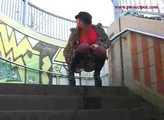 Featuring Katharina, a very popular Projectpee model, this very special movie was filmed over several months during 2005. In the first two chapters, we accompany Kathy as she enjoys the local Karneval and then we catch up with her a couple of times later in the year, by which time she is expecting a baby. The last scenes were filmed before Kathy went on 'maternity leave' and we are pleased to say that she had a little boy at the end of last year. Kathy has not filmed during 2006 but we hope that she might return and do some more filming for us next year.
The video runs for 1 hour 28 minutes and includes 24 pee scenes.
Chapter 1)
We find Kathy in her local town in Karneval mood. After a while, she needs a pee and slips away from the crowds to take a huge pee on a brick staircase. A few beers later we see her slip away again and this time she takes a gushing pee and leaves a flood in a side street a few yards away from the celebrations.
Later, the need to pee becomes imperative again and she heads down a flight of stairs to a basement. She is not the only one in this predicament; if you watch closely you will see a group of people passing behind as Kathy is about to go down the steps. A girl rushes away from the group to pee in a corner (not on film, unfortunately). Kathy leaves a flood in the basement. For her next pee emergency, Kathy takes cover by the door of a lock-up garage.
Chapter 2)
Celebrations are still going strong and Kathy takes a rather naughty pee on the sales forecourt of a builder's merchant, right between a couple of new sheds on display.
As she follows the processions she has to dive away again and this time takes a huge gushing pee in a carport.
A little further along the route, she takes a detour into a small park and pauses to pee in the middle of the path. Crossing town she uses an underpass and takes advantage of the cover to flood the staircase with pee.
Finally, before leaving for home Kathy is very naughty and climbs up on to a preserved steam engine and pees off the walkway.
Chapter 3)
Kathy is now an expectant mother and taking life a bit easier. She spends a lot of time relaxing in the parks and enjoying the peace while she still can. Of course, she needs to pee more than previously and so has to make frequent emergency stops. In the first scene, we see her hide beside some wheelie bins to take a long pee. Next, we see her flood a flight of steps and, as she has no tissues, use a couple of leaves to wipe. We see Kathy stop on take a pee on the path and peeing under a flight of stairs.
Chapter 4)
Another park and another emergency for Kathy and we find her having to take a pee in a corner by a waste bin. Next, we see her take a pee by a tree a little way from a travelling fair.The next scene shows Kathy engaging in some rather interesting multi-tasking. As she is now "eating for two" she is snacking on a large burger and manages to take a pee, using one hand to pull up her skirt and pull the crotch of her panties whilst keeping her burger out of harm's way with the other hand. The last scene in the chapter finds Kathy using a window opening in an ancient wall as a makeshift toilet.
Chapter 5)
For once, desperate Kathy is in luck and finds a public toilet at the car park where she left her car. However, it's coin operated and Kathy has come out without her purse, leaving her with no choice other to pee in the car park.
Kathy decided to visit the museum in the old fortifications, which used to surround the city. The museum is closed for renovations and so Kathy takes a pee on the doorstep. She relaxes for a while near the pond and then when she's desperate to pee again she uses one of the ancient doorways in the fortification.
Out for a walk around town, Kathy becomes desperate and takes a pee in the street behind a building.
Chapter 6)
In our final outing with Kathy, we find her arriving too early for the restaurant and so she takes a pee around the back whilst she waits for it to open. We next see Kathy round the back of an hotel pissing gallons onto the roadway. Finally, we join Kathy for another desperation pee in the street.