PJP-23 Pee Medley Volume 2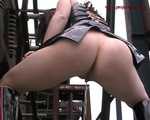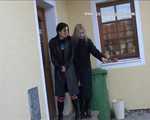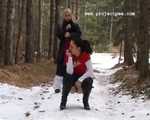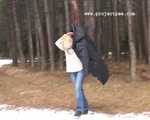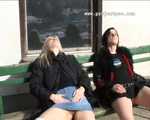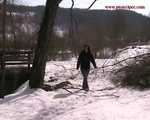 The next selection of scenes from popular models Samantha, Renee, Yvette, Salma, Juliette and appearances from real-life sisters Helen & Kelly. Filming took place in the USA, Germany, England, Austria and Mallorca. The movie contains thirty pee scenes and runs for approx. 65 minutes
Chapter 1) we join Renee on her trip to the USA and see her strolling onto famous Venice Beach in California and taking a pee whilst seated on the sands. Later we see her return to her apartment, desperate to pee but unable to find her house keys. She simply takes a pee in the driveway. Next, we see Renee heading towards Nevada and stopping for a pee break in the fading light of evening. Finally, we join Renee in the Mohave Desert and see her stop for a much-needed pee.
Chapter 2) we rejoin Sam on a rainy day and see her stop to pee by the side of a busy road. Next, she conceals herself behind a large boulder to take a long pee from a standing position. A little further along she realises that she still needs to pee some more and repeats the performance by another boulder. We catch up with Yvette who is heading to a fetish-themed party with a group of friends. When they stop for a break, Yvette slips away and takes an urgent pee on some industrial plant. Still on the heath, Kelly is desperate for a pee but has to avoid groups of people before being able to find relief by a bench on the pathway.
Chapter 3) Sam & Renee arrive at a friend's house on a snowy winter day. Their friend hasn't returned yet and the girls are not too happy as they are very cold and desperate to pee. Renee can't be bothered hanging around and just hitches up her skirt, pulls her panties out of the way and pees right on the front path. Sam is a little more discrete and walks around and pees outside the garage door. Out for a walk in the snowy forest, the girls need to stop for a pee and first Renee and then Sam take turns of peeing on the snow-covered path. Another snowy day finds the girls out walking again and this time when they need to pee, they stop and pee side by side on the pathway. In the final scenes, the girls have been out enjoying the snow and pause for a rest on the roadside bench before driving home. Sam needs to pee and as she is not wearing panties, just opens her legs wide and releases a huge arc of pee on to the ground in front. Renee thinks that she might as well do the same and slips off her panties and pees an impressive arc on to the ground.
Chapter 4) Back on Hampstead Heath, it's Helen's turn to need a pee and she squats over the dry leaves whilst sister Kelly keeps watch. Out for a walk with Yvette, Juliette needs to pee and hurries off the path to squat on the grass. Next, we find Yvette out in the snow again and stopping to pee at the edge of the village. In the sun again Yvette stops her car and takes cover by some disused industrial plant when she needs to pee again. The sun is shining brightly and Yvette and Juliette are enjoying it by paddling naked in a lake. The cold water makes Yvette need to pee and she stops and lets her pee trickle into the lake water.
Chapter 5) Yvette arrives at the shopping centre, desperate to pee. She is in too much of a hurry to wait to use one of the shop toilets and so pees in the gutter at the side of the building. Out for a walk in the country, Yvette becomes desperate and hurries off the path to take a gushing pee in the grass. Further on and Yvette needs to pee again but this time she doesn't even bother going into the grass but just pees a gusher in the middle of the path. Yvette pulls off the autobahn and on to a side road and then hides down the embankment to take a huge pee. The final scene of this chapter does not include any peeing. Yvette & Juliette are walking together over a bridge over the motorway and Yvette decides to cool down by taking off her dress and walking naked across the bridge. The passing truckers seem to enjoy the show.
Chapter 6) Back in the cold Austrian winter we see Sam take a pee down a builders ramp at a friend's house. Out in the sunshine Yvette needs to pee and squats down in a small parking area. Finally, we have a long sequence following Salma as she enjoys the grounds of a German palace. When she needs to pee, she is very naughty and pees inside one of the buildings.