PJP-25 Eve & Robyn's Yorkshire Travels Parts 1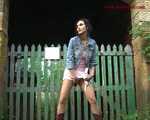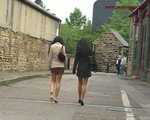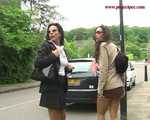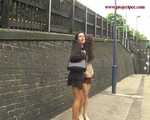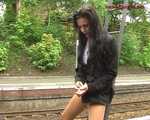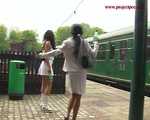 Projectpee is delighted to offer you a very special two-disc set of the movies filmed in Yorkshire during 2005. Featuring our star model Eve and delightful English model Robyn Hunter, the movie commences with an emergency pee stop by Eve on her way to meet Robyn. Non-stop peeing action continues right up to Eve's final pee on the staircase of the car park at Manchester Airport. Locations vary from pleasant rural South Yorkshire to the more gritty urban locations of Barnsley and Sheffield and include one evening scene not previously released.
Volume 1
1) We find Eve making an emergency stop at a rural station on her way from Manchester Airport to her hotel. There is no toilet and so Eve takes a truly enormous pee in the shelter on the platform
Eve arrives at the hotel to find Robyn waiting for her and they make their way to Eve's room. Whilst Eve is freshening up in the bathroom after her trip, Robyn is so desperate that she pees in the waste bin.
2) The girls head out and Robyn takes Eve to visit a picturesque village. Unfortunately, there are no toilet facilities, so first Eve has to pee by the roadside, and then Robyn pees into a drain as traffic roars past.
The girls return to the hotel for a light meal and then head out to see a preserved village. It is early evening, everywhere is closed, and Robyn and then Eve have to pee in the village street.
3) Next day the girls travel to a museum based at an old industrial site. They enjoy the visit, except for the lack of toilet facilities and Eve has to squat and pee by one of the buildings. Robyn cannot make the long walk back to the car and has to stop and pee in the roadway, not realising until it's too late that someone is watching from a house window.
4) The girls decide to leave their car and take the train into Sheffield. They arrive at Wombwell Station, desperate to pee but there are no toilet facilities. Robyn cannot wait and takes a huge pee on the platform. Eve holds out a bit longer but then gives in and releases a huge pee fountain, which soaks the platform.
5) The girls make a long trip to a preserved railway only to find that most of the activities have been cancelled because of renovation work in progress. Even the toilets are out of commission and so Robyn takes a neat pee into a plant container. Eve also badly needs to pee and takes a huge pee which runs all over the platform. After exploring for a little while they walk back to the car park, keeping a lookout for a toilet as they both desperate to pee again. They have no luck in finding a toilet and so Robyn squats by a van and takes a long pee whilst Eve watches for people coming. When Robyn finishes, Eve takes her turn to squat by the van and pees a real gusher.
6) We see the girls returning to Eve's hotel and Robyn pulling in for an emergency pee stop. Great desperation scenes as she starts to drop her trousers several times but has to pull them up very quickly as cars appear. She does manage to pee eventually but has to empty her bladder in two instalments.