PJP-43 Pee Medley - Volume 9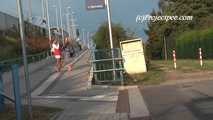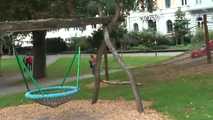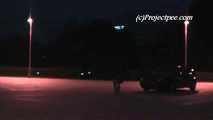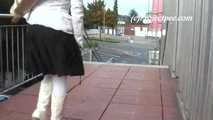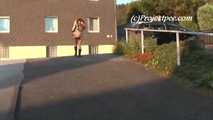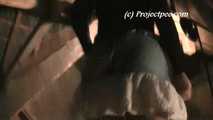 Eight great girls, four countries and 32 pee scenes equals 90 minutes of exciting pee action. Featuring Roxy, Kathy, Yassie, Natly, Maja, Lindsay, Carmen & Sandra with filming in Austria, Germany, Hungary and the Netherlands.
Chapter 1) Carmen's debut scene for Projectpee is a great scene of Carmen taking a huge splashing pee in the staircase of her apartment block. Next, we see lovely Yassie, desperate to pee and unable to find a toilet. She hurries up a small lane to pee and is only yards from the busy main street. Next, we see Kathy and Lindsay out walking and Kathy talking a detour from the main road to pee near to a railway track. Next up is a very public pee from Yassie on the parking area of a small parade of shops on a busy main street. The final scenes from Chapter 1 feature Lindsay & Maja and the two desperate girls heading into an underpass. Lindsay stops to take a huge and very noisy pee half way through the underpass, leaving a lake of pee behind. Maja waits until she reaches the exit steps before pausing to drench the steps in pee.
Chapter 2) We see very cute teen Natly coming off the rain with her dog and making her way through the station and into the car park. Desperate to pee she stops to take a really long pee in a quiet part of the car park. In our last scene, we see Yassie arriving at the suburban station to catch her train into town. She badly needs to pee and, knowing that there is no toilet on the platform, takes a risky pee beside the recycle bins. Yassie walks back to the entrance ramp, just in time to meet Kathy who is passing the station. Kathy guesses what Yassie has been doing and teases her about peeing by the bins. The girls are in a silly mood and play around a little, comparing their underwear and tanned legs. Kathy jumps up and walks along the narrow handrail, which is probably not a good idea as she is wearing high-heeled shoes. It's time for Yassie to go up to the platform to catch her train but before parting, Kathy squats and takes a pee by the foot of the ramp.
Chapter 3) Roxy makes her first appearance in this movie. In this scene, Roxy takes a pee on a suburban pathway. Roxy carries on walking to the bistro where she intended to eat lunch but arrived before it had opened to the public and so Roxy peed at the back door. Next, we see Kathy in the park with Natly. Kathy needs a pee and walks around beside the bushes and squats but only has time to release a quick jet of pee before a guy walking through the park spots her. Kathy drops her skirt and hurries back to sit beside Natly until the man is out of sight. Kathy then returns and takes a long gushing pee on to the grass. We meet up with Roxy again and see her out walking in the suburbs. She is desperate to pee and with no toilets in the vicinity, she squats and pees on the pavement. Next, we see Kathy arriving at the station in the failing early evening light, she enters the indoor parking area to collect her car but needs to pee and so squats and pees on the floor. The last scene from this chapter features Roxy again and we see her pop behind a building before slipping down her panties, bending slightly forward and releasing a torrent of pee on to the concrete.
Chapter 4) Yassie heads up an external staircase to an office doorway. The office is closed and so Yassie just pees on the doorstep. Next up, it's Lindsay and Maja. They are walking down a city street and both are desperate pee. Without hesitation, Lindsay hitches up her dress, pulls down her panties and pees a torrent in the middle of the pavement. No less shy, as soon as Lindsay finishes, Maja pulls up her tiny skirt, slips down her panties and also pees a flood in the middle of the pavement. The girls carry on walking leaving two very obviously pee puddles on the pavement behind them. Next is cute little Natly, who needs to pee whilst walking home through town. She walks a few steps off the busy main road into a lane, which runs steeply down to the next street. Natly hitches up her skirt, pulls down her panties and releases a huge jet of pee on to the tarmac. Her smile of relief as she turns and walks back out of the lane is priceless.
Chapter 5) It's Natly again as she arrives at the station in the early evening. She badly needs to pee before boarding her train and so pees at the station entrance. Next, we rejoin Kathy, who is walking in the park. She badly needs to pee and so heads to the old fortress but the building is closed for the season and so she pops a squat at the top of the steps leading to the entrance. Next is a rather unusual scene from Sandra and we see her in a barn, climbing up the ladder to the attic. Once there she decides that she needs to pee and so sits on a chair, opens her legs wide, pulls her panties out of the way and pees on the dusty wooden floor. The last scene in this chapter introduces Kasha, whom we see in obvious need to pee as she crosses the market square a Netherlands town. Not being a timid girl, Kasha just steps behind a low wall , whips off her panties and takes a long gushing pee on the ground, ignoring anyone who might be walking past.
Chapter 6) It's back to sunny Budapest in time to see Roxy, bent over in desperation as she rushes up a flight of steps from the road. She gives up before reaching the halfway mark and simply pulls down her panties and squats on the landing, before releasing a torrent of pee, which drenches the steps. It's a chilly December day in Germany as Yassie walks across the lower level of the station car park. The cold has made her desperate to pee and so she slips down her jeans and panties and squats by one of the parked cars before taking a long gushing pee on to the floor of the car park. We return to the sun and join Roxy on a walk by the lakeside. She very badly needs to pee but there are no toilets and the area is very open and frequented by people enjoying the summer sun. Roxy quickly slips her panties off and sits down on the edge of a bench. As soon as she is sure that no one is looking in her direction she releases a huge arc of pee on to the ground before quickly moving on. Next, we return to the Netherlands to catch up with Kasha who pops in to use the sports ground toilet but finds everything locked up. Unable to wait any longer Kasha squats down and takes a huge pee in front of the closed door. Finally, for this chapter we have a really nice scene from a very demure looking Natly, who takes a detour off the busy main street into an office car park and then takes a long forceful pee by the bins, just finishing in time to avoid being caught by someone coming in for his car.
Chapter 7) We rejoin Roxy who is heading to a wine bar. She arrives desperate to pee but the grill door is still closed. Notwithstanding the staff are only a few feet away, Roxy squats and pees on the step. Next, we have a great scene from Natly, who is browsing in a large DIY store. Desperate to pee, she appears to be tempted to use one of the toilets in the bathroom display but restrains herself long enough to walk outside to the garden goods display and take a huge pee amongst the goods on offer. Roxy's final scene is filmed at a high vantage point that offers spectacular views over the city, or rather cities that make up modern-day Budapest. Roxy manages to avoid the throngs of visitors long enough to take a long gushing pee on some steps. The last two scenes from the movie feature Natly and in the first we see her stroll casually into a garage forecourt and take a forceful pee by the pumps. It's a cold December day and her hot pee creates clouds of steam. Finally, we see Natly leaving the station and starting to walk home on a grey December afternoon. It's freezing cold and she badly needs to pee and so stops to pee on a patch of snow covered ground by the side of the main road.